---
Sign-Up For My Newsletter
Are you interested in receiving newsletters from me? Sign up using the link below!
SIGN UP NOW!
Show love, extend grace, and give courage with a groovy attitude.
– Mission Statement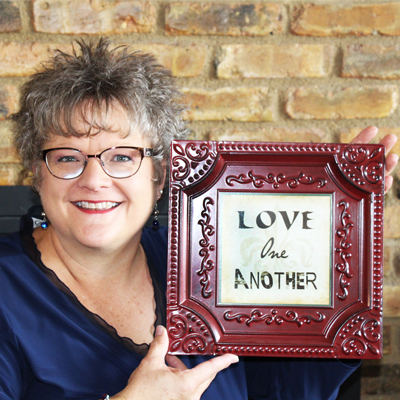 About Carrie Blair
---
Life's many challenges have given Carrie Blair various opportunities to gain wisdom and find hope. As a wife and mother, she started saving the stories and applying the lessons she learned in an effort to avoid making the same mistakes twice. (Sometimes she succeeded.) As a business owner for over 20 years, she became a professional leader, team-builder and motivator, always looking for solutions. Anyone can point out the problems, but who will wink, smile, roll up their sleeves and work to do what is right? Living a life of joy and inspiration is the key to encouraging others and this "groovy chick" does just that. Embrace peace. Show love and compassion. It's good stuff!
Faith Presentations
Carrie is a student of The Word, having prepared and presented lessons for all ages since 1984. Using stories of personal struggles, she finds answers in the Bible and uses them to inspire others to be like Jesus. She has been the featured speaker at Ladies events in Texas, New Mexico and California.
Professional Presentations
Carrie has been a business owner and team leader for over 30 years. She has recruited and trained individuals to become successful team members and future leaders. She has received many awards for exceeding performance goals.
You are truly an inspiration! Your giant, accepting, loving, forgiving and emotional heart – well I don't know how it fits inside your chest! You are such a true servant of God and I am blessed andhumbled to be called your friend. You were AWESOME today!! Thanks for the heart check! I love you!
Jane Pierce (10/24/15)
The first time I heard Carrie Blair speak was in 1992.  She was a young mother of 4 and as far as I know, just starting to speak in "public".  It was at a ladies' class at her church.  I don't remember the topic, but I do remember how well she did at such a young age.  Her voice and ability to cover the topic were quite composed and eloquent. The only sign of nervousness was in the restless movement of her hands.  But I admired her so much and still do to this very day.
Carrie has been through a lot in the first 5 decades of her life, but has come through as a shining star and God's beacon to all around her.
I am truly thankful for her friendship.  God bless her in her new adventure.
Margaret Meter
Carrie Blair is a fireball for the Lord at Cooper church of Christ. She uses her God-given motivational talents to move her family and friends toward greater service in the Kingdom. She married her high school sweetheart almost 12 years ago, while she was still in high school. Not only did she remain on the honor roll, she also graduated a semester ahead of most of her classmates. She went on to attend South Plains College in Levelland where she and Steve lived until a recent move to Woodrow. God has blessed them with four delightful children; Ashley -9, Joshua-8, Jonathan-6, and Shannel-5. Other than family activities, she enjoys reading and writing Christian motivational materials.  She developed and presented a series of lessons on intimacy in marriage while at the Cactus Drive Church in Levelland. She loves to sing and can read a hymnal at 55 miles an hour on the highway to Levelland where she sells cellular phones for Liberty. God loves Carrie and she shares that love whevever she goes. Sharlan Proper